Puppy & Dog Vaccinations Brisbane
Keep your furry friend healthy and protected with puppy and dog vaccinations with our Brisbane vets.
Puppy & Dog Vaccinations Brisbane
Helping You Keep Your Dog Healthy
Keeping your beloved dog healthy and happy is a top priority for all pet owners. At The House Call Vet, we understand this and offer affordable, personalised and effective dog and puppy vaccinations in Brisbane.
Our experienced veterinarians are passionate about the health and well-being of your pet. That's why we offer in-home vaccinations for your convenience, as well as in-clinic options at our Sunnybank and Kenmore locations in Brisbane.
From your puppy's first vaccination to annual dog boosters, we have everything your furry companion needs to stay healthy. With our preventive health services, you can rest assured that your furry friend is getting the best possible care.
Give your dog the gift of health! Book your next checkup and get your pup up to date with their vaccination schedule today.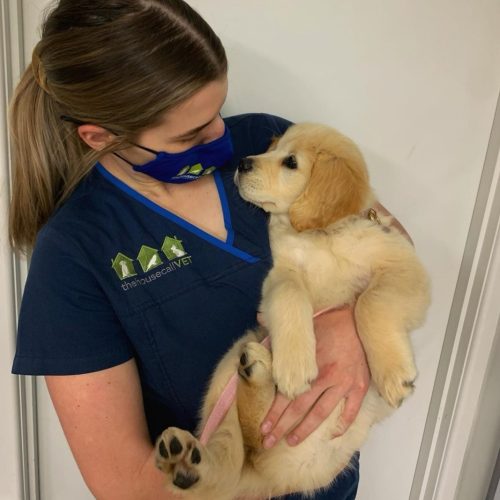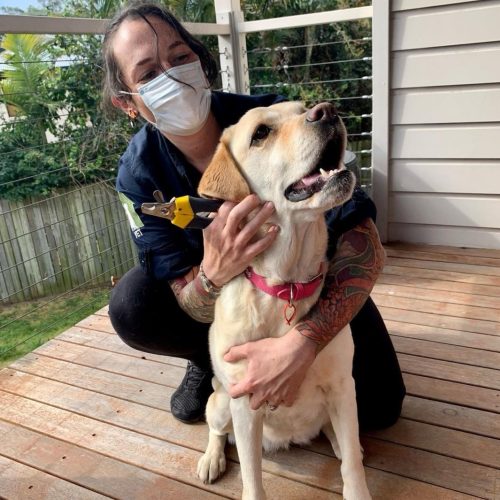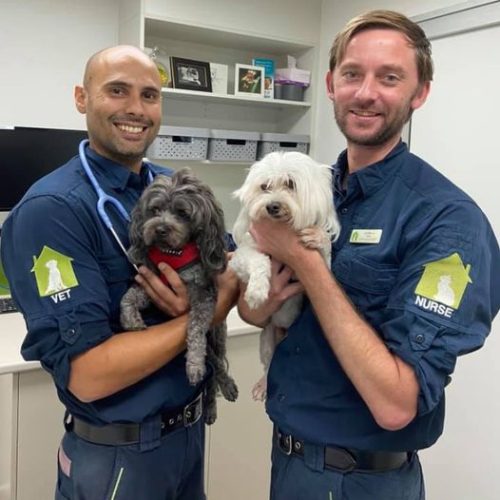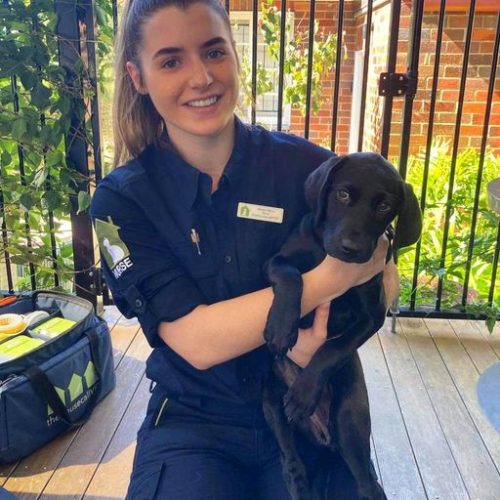 Why You Need Brisbane Dog Vaccinations
Ensuring Your Dog's Health​
Dogs and puppies are not naturally immune to infectious diseases. To ensure they are protected both puppies and older dogs will need to visit their vet for a series of routine vaccinations to ensure they do not contract preventable but life-threatening diseases.
Ensure the well-being of your furry friend by choosing us for their preventive care needs. Schedule your canine companion's checkup and vaccination appointment with us today!
What Our Clients Have To Say!
Annual Boosters & Puppy Vaccinations in Brisbane
Protecting Your Pup From Infectious Disease
Keeping your furry friend healthy and safe is a top priority, and vaccinations and dog injections play a crucial role in achieving that! Protecting your dog from dangerous and infectious disease not only keeps them healthy but also gives you peace of mind knowing that you're doing everything possible to ensure they live a long and happy life.
At The House Call Vet, we understand the unique exposure risks and factors of the Brisbane area, and our experienced veterinarians can suggest the most suitable vaccination regime to suit your pet. We offer both in-clinic and mobile veterinary services to make the vaccination process convenient for you and your furry companion. For added convenience, we also offer after-hours vet services that take makes maintaining your dog's vaccination easy and stress free!
Scheduling Puppy & Adult Dog Vaccinations
What Are Core Vaccinations?
C5 or core vaccines are the most common vaccine type for your pup. They are considered vital to protecting your pet from common diseases that have high mortality rates.
If you need advice and information on core vaccines and routine preventative care, get in touch and we are happy to assist!
Canine Distemper is a deadly and highly contagious viral disease that affects the respiratory tract (lungs), the gastrointestinal tract (gut), and the neurological system (brain) of dogs.
Spread via blood, urine and saliva symptoms of canine distemper include sneezing, coughing, thick mucous from the nose or eyes, lethargy, and paralysis.
Puppies and young dogs are particularly susceptible but can be protected with vaccinations. 
Also known as canine adenovirus, Infectious Canine Hepatitis is a viral infection transmitted by contact with infected animals, their faeces, urine, or saliva. 
It has an impact on the liver, kidneys, and the cells that line the blood arteries.
Symptoms include fever, lethargy, loss of appetite, cloudy eyes, jaundice and vomiting and requires immediate treatment from your local vet.
Commonly known as Cat Flu, Canine Parvovirus is a fatal viral illness that typically affects small puppies. It spreads by the blood, faeces, or vomit of infected dogs.
Symptoms include vomiting, diarrhoea, nausea, pale gums, blood in the stool and loss of appetite and require quarantined care for 5 – 10 days. 
Unfortunately, this is an expensive condition to treat but with vaccinations can be prevented.
What Are Non-Core Vaccinations?
While core vaccines are essential to keeping your dog healthy, non-core vaccines are usually only recommended for dogs with specific risk factors. 
These non-core vaccines will protect against illnesses like kennel cough and contagious bacteria. 
Our veterinarians can help you determine which, if any, of the non-core vaccines are right for your dog based on their lifestyle and health status. 
This is another infectious viral disease that is similar to the human cold.
While not life-threatening, it can leave your pet feeling very unwell and can lead to secondary pneumonia if left untreated.
Bordetella bronchiseptica is a type of bacteria that when combined with canine parainfluenza can lead to canine cough or kennel cough.
Canine cough is a highly contagious virus that can cause severe and harsh cough in dogs.
Kennel cough affects the respiratory tract and can quickly spread among dogs who are close to one another. The vaccine for canine cough is typically recommended to be given annually to dogs who are regularly in contact with other dogs and are very young or very old.
This is a bacteria that penetrates the skin or gut and spreads through the bloodstream, causing permanent organ damage.
This vaccine is usually given when your dog is young, and lives in tropical areas where your dog comes into contact with water contaminated by urine from rodents and other infected wild marsupials.
Learn More About Dog Vaccinations Brisbane
Frequently Asked Questions
Learn more about the importance of vaccinating your dogs. Have another question? Get in touch with The House Call Vet today and our team of experts can assist. 
Keep Up To Date With The Latest In Pet Care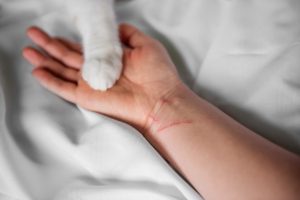 Teething is a significant milestone in your pet's early life, and it doesn't have to be ruff! Our guide provides essential tips and insights to make the teething phase enjoyable and comfortable for both pet parents and their furry companions.
Read More »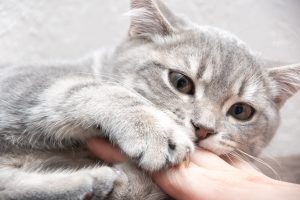 Teething is a significant milestone in your pet's early life, and it doesn't have to be ruff! Our guide provides essential tips and insights to make the teething phase enjoyable and comfortable for both pet parents and their furry companions.
Read More »

Is your pet struggling with weight issues? Discover the root causes, health risks, and practical solutions for combating pet obesity. This in-depth guide sheds light on the importance of a healthy weight and offers essential insights into providing a happier, more active life for your beloved companion.
Read More »