Need a vet who is open on a Sunday?
If you're looking for a vet that is open on a Sunday, our team provides after-hours, in-home care for your pets. All done with a level of care and competence that you can have confidence in.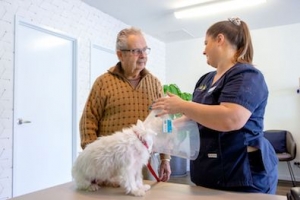 Many conditions can be managed at home. They include coughing, sore eyes, itchy skin and ears, limping, vomiting and diarrhoea, and urinary issues.
Our vets are open on a Sunday for palliative care! We can also offer your pets after-hours palliative care and at-home euthanasia. If you're unsure if your pet should be seen by our after-hours team or visit an emergency hospital, just call us on 1300 838 868, or contact us here and we can help decide.
We understand the distress that transporting your pets can cause for them. That's why we have an after-hours veterinary service in Brisbane. We're committed to being the best after-hours vet care service in Brisbane. Regardless of the time of day, our vets open on Sundays for emergencies and non-emergencies!
When Does Your Pet Need Emergency Vet Care?
You know your pet better than anyone. If you notice your pet is experiencing distress, discomfort or illness, do not hesitate to contact us. Our vets are open for after-hours care regardless if its an emergency or not. Our vets open on Sundays!
We offer after-hours vet services in Brisbane, saving you the time and stress of transporting your animal by yourself.
If your pet experiences nausea, vomiting, diarrhoea, nervousness, shy behaviour, signs of pain or discomfort, watery eyes or itching – give us a call.
It is always best to be on the safer side, which is why it is important to monitor your pets and call a veterinary professional if you notice that they are feeling ill.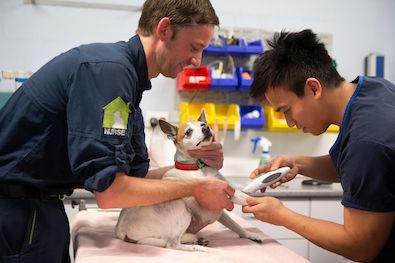 Our mobile vet is open on Sundays and provide the following vet services:
check-ups
vaccinations
worming
flea & tick treatments
microchipping
health checks minor procedures

We triage all our after-hours vet calls based on the severity of the condition.
At The House Call Vet, we focus on the health of your pet. We also offer advice on behavioural issues and dietary recommendations. Your pets deserve the best possible start in life, which includes getting them their yearly vaccinations and heartworm prevention.
Euthanasia: Vet Open On Sundays Brisbane
We also offer at-home euthanasia services to pets across Brisbane. We understand the grief that comes with having to put one of your best friends to sleep. We are open after-hours regardless of whether its an emergency or not. Our vets are open on Sundays as well. 
We will come to your home and euthanise your pet in the comfort of their home. Rest assured that your pet is receiving world-class medical treatment in their final hours, pain-free and in a place that they are comfortable in and familiar with.
Vets Open Sunday | Why Choose Us?
Vets Open Sunday | How Does THCV Work?

The House Call Vet is a comprehensive and modern veterinary practice that combines traditional veterinary clinics with an advanced house call service. With our fleet of house call vehicles and network of veterinary hospitals, we are able to care for pets across Brisbane.
Our custom designed Mobile Veterinary Units (MVUs) act as our consult rooms, fanning out from our clinic bases each morning to see pets across Brisbane. Our MVUs are equipped with microscopes, scales, diagnostic equipment, and a fully-stocked pharmacy so that most pets can be treated at home. If in-clinic care is needed, we provide complimentary patient transport to and from our surgeries.
Our state of the art veterinary clinics act as our regional 'hospitals', providing comprehensive facilities where pets can be taken when they require in-clinic care such as surgeries, x-rays or dental procedures. Our clinics also perform in-clinic consultations every day for our patients who prefer to come visit us at the clinic!
This model ensures that no matter what level of care your pets needs, and regardless of whether you prefer in-home or in-clinic appointments, we can be there for you and your pet.
Brisbane's Leading Mobile Veterinary Practice