For pet emergencies and on-location care, we're the trusted mobile vet Brisbane.
If You Need a Mobile Vet Brisbane
Call The House Call Vet 7 days a week.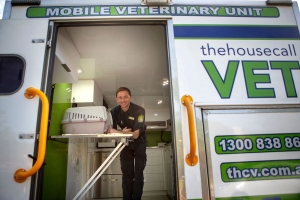 Trips to the Vet can often be stressful for pets. Our Mobile Vet service, which operates Brisbane wide is designed to solve this problem.
Our mobile vet service comes to your door and during the coronavirus outbreak, you can leave your pet in a cage or secured near the front of your property.
No matter where you live in Brisbane our mobile team of veterinarians is available to help. Our consult fee starts from just $79.50.
Brisbane's Leading Mobile Veterinary Practice
Our mobile vet teams are equipped with microscopes, scales, diagnostic equipment, and a fully-stocked pharmacy. This means your pet gets the same level of care is they would in our clinics.
No travel fees anywhere in Brisbane.
Mobile Veterinary Units that bring the clinic to your door.
A vet AND nurse at EVERY consultation.
Your pet is always handled safely and gently.
No more stressful car rides or crowded waiting rooms.
We fit into your schedule.
We learn more about your pet by seeing where they live.
Calmer pets mean easier handling and more meaningful examination (heart rate, blood pressure).
A mobile laboratory with microscope, centrifuge, and multiple in-house tests (e.g. parvovirus, heartworm).
A mobile pet pharmacy with a complete range of drugs normally stocked in a veterinary clinic.
A safe patient transfer ambulance – complete with oxygen, intravenous fluid pumps, and secure enclosures.
A mobile office with laptops, printers, and credit card facilities.
At every consultation, we also bring advanced medical equipment for assessing blood pressure, oxygen saturation, heart electrical activity, eyes and ears
Mobile Vet Brisbane
When You Need A Mobile Vet in Brisbane you can rely on us to arrive on time and with everything we need to give your pet the best care in Brisbane.
Mobile vet care is about accessibility and trust. And we've been investing in research and hiring the best people in the industry for the last 10-15 years.
When you call the House Call Vet you can know that we bring with us the full weight of all modern science and the latest developments in veterinary care.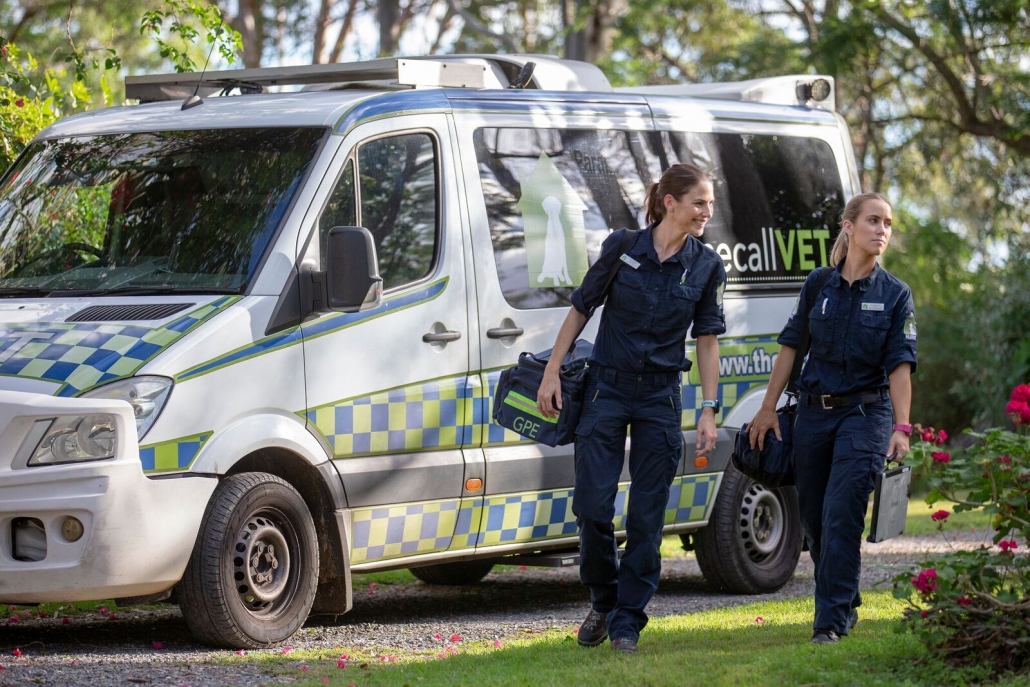 Mobile Vet Brisbane – Night Service
If you need to call on us for emergency veterinary care, we are available from 7 am until midnight.
our mobile vet service is ready anywhere in the Brisbane area. This means you 'precious' can get in-home care for pets with illnesses that do not require in-hospital emergency care.
Any conditions that usually can be dealt with at home include – coughing, sore eyes, itchy skin and ears, limping, vomiting and diarrhea, and urinary issues.
We are also able to offer after-hours palliative care and home euthanasia.
If you are unsure if your pet should be seen by our after-hours team call us on 1300 838 868, and we can help you to decide.
About Our Team – Mobile Vets Brisbane
Meet the team
The House Call Vet is Brisbane's leading mobile vet practice in Brisbane, offering both house call and in-clinic veterinary care.
We believe in providing exceptional veterinary care and building lasting relationships with our patients and their owners.
We consult from 7 am to midnight 7 days a week so that we can always be there for you and your pet, no matter what level of care they need.
Mobile Vet Service in Brisbane
We're a caring team.
A focus on continuing education.
We're genuine animal lovers!
We fit into your schedule, not the other way round.
How Does THCV Work?
The House Call Vet is a modern practice that combines traditional veterinary clinics with an advanced house call service. With our fleet of house call vehicles and network of veterinary hospitals, we can care for pets all across Brisbane.
Our mobile veterinary units (MVUs) act as our consult rooms, fanning out from our clinic bases each morning to see pets across Brisbane.
Our mobile units are equipped with the latest technology, used by a team passionate about veterinary care.
Our state-of-the-art veterinary clinics act as our regional 'hospitals', providing comprehensive facilities where pets can be taken when they require in-clinic care such as surgeries, x-rays or dental procedures.
No matter what level of care your pets needs, we can be there for you and your pet.
Our Mobile Vet Services in Brisbane
Routine Consults
After Hours House Call
Digital X-Ray
Vaccinations
Dental Procedures
Ultrasound
Euthanasia
Desexing
Minor to Complex Surgeries
BOOK AN APPOINTMENT
Need to see us urgently?
Book an appointment now with Brisbane's most trusted mobile vet.
Or you can call us on 1300 838 868